Eight Karats Eighteen Vitaskin Nutricosmetic Supplement V2 (Vegan)
Fresh new stocks: Feb 2025

(Multi-functional health & beauty supplement)
The New Eighteen is two times more effective than the previous version!
A multi functional supplement that boosts body immunity, speeds up pimples healing process and prevent further breakout, lighten scar marks, provides UV protection, whitening, delay aging, maintain youthfulness, moisturise skin and boost collagen production. A yummy and chewable berry minty flavour supplement you will definitely love! 
⬆️  Higher absorption as the rate of bioavailabilty is increased!
⬆️  More beauty benefits! 2x more effective!
⬆️  Vegan friendly!
⬆️  2 soft-gels of Eighteen V1 = 1 soft-gel of Eighteen V2
Benefits of NEW Eighteen Vitaskin
✔ Skin lightening
✔ Lightens freckles and pigmentations
✔ Boosts skin moisture
✔ Evens out skin tone
✔ Boosts radiance
✔ Protects skin against UV rays
✔ Reduce acne and pimples
✔ Lightens acne marks and scars
✔ Boost collagen production
✔ Boost immunity
✔ Anti-glycation
✔ Helps to ease hangover
✔ Helps to alleviate autoimmune diseases
✔ Visible results in 2-4 weeks*
*EK SkinTech*
It is excellent for antioxidant effect and protection against skin damage by ultraviolet ray (reducing wrinkles and fine lines, diminishing age or sun spots). It has a variety of functions including skin barrier enhancement, whitening effect, skin moisturizing, collagen production, antioxidation, etc.
Whitening Effect + Skin Moisturizing + Wrinkle Improvement
EK Skintech inhibits melanin production, increases skin moisture and reduces water loss, and promotes collagen production
Antioxidative Effect
EK skintech inhibits active oxygen production in the body and increases the expression of antioxidant enzymes, which is effective in preventing aging.
Anti-glycation
Too much sugar can age your skin through a process called glycation. Sugar binds with collagen and elastin, the two vital proteins which make your skin supple and elastic. This produces advanced glycation end products (AGEs) which weaken the skin's structure, resulting in visible signs of ageing.
AGEs generate high levels of free radicals which further aggravate skin ageing and increase glycation, leading to a vicious self-perpetuating cycle.
EK Skintech blocks glycation
By reducing sugar release in the blood, inhibits formation of AGEs to halt the breakdown of collagen, and helps to reduce free radicals
through its potent antioxidant properties.
Is it safe to eat?

🚨

✅ Made in Korea.
✅ MFDS approved.
✅ COA cleared.
✅ Samsung Insurance coverage.
✅ 💯 Safe and results-proven!


8 IN 1 MULTIFUNCTIONAL HEALTH & BEAUTY SUPPLEMENT
UV protection

Whitening; lightens acnes marks and scars; Lightens hyperpigmentation and freckles

Moisturizing 

Enhance your cells to produce own collagen

Reduce acne and pimples

Boost immunity

Anti-glycation

Anti-oxidative effect
Special Promotion
1 Box = $49
3 Boxes = $124.95 (Save - 15%) 
10 Boxes = $367.50 (Save - 25%)
1 box consists of 30 soft-gels
Directions
Intensive - Consume 2 soft-gels daily during the day ( 1 box can last 15 days)
Maintenance - Consume 1 soft-gel daily during the day (1 box can last 30 days)
Intensive whitening - Consume up to 4 soft-gels daily for speedy skin lightening effect.

** P.S - Results may varies according to individual ** 


We value your feedback
❤ Do a review by taking unedited and unfiltered photos of before (before start of the softgels) and after photo (at least 10 days after consuming 2 softgels daily).
This is important as this will help you track and show the progress and improvement if there is any.

We will give you a free box of any Eight Karats product of your choice for your next purchase when you submit your review ❤
Customer's Testimonial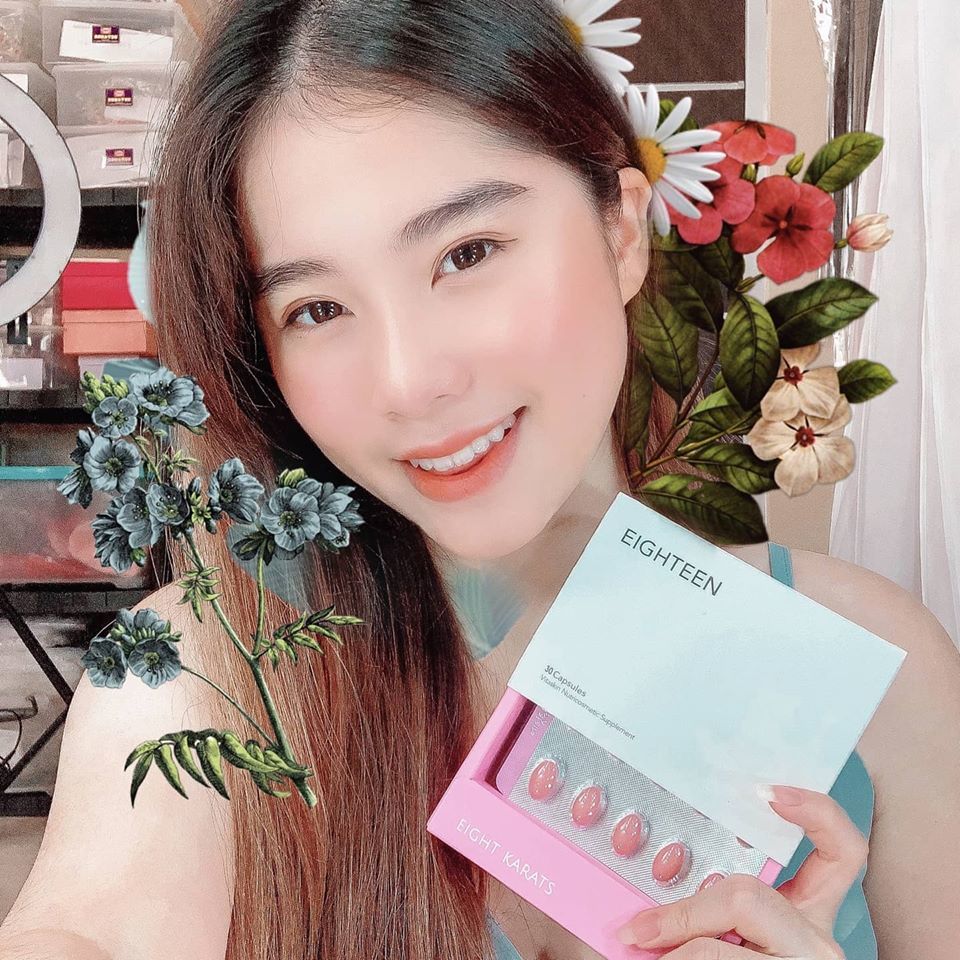 Never a disappointment!
It is pricey but it is never a disappointment! Especially good for my eczema! Have been a consumer since 2019!
The down part is that courier by Qxpress is super slow! Took 2 weeks to arrive and when call them to enquire, they mentioned that the items were lost and wanted to refund. However, delivery came the next day!